Innovating Imaging Measures of Disease Progression & Improvement to Determine Drug Efficacy Sooner
Welcome to the Definitive Industry Forum for Advancing Imaging Biomarkers to Accelerate Retinal Drug Development
Uniting biotech and pharma scientists to revolutionize ophthalmic drug development, the Retinal Imaging Biomarkers & Endpoints Summit encourages forward-thinking discussions to enhance the adoption of novel imaging-based approaches to determine retinal function and optimize development of regulatory accepted endpoints.
Join 60+ retinal imaging, innovation, R&D, preclinical and clinical experts from the likes of Genentech, AbbVie, Apellis, Janssen and Novartis to overcome the translational challenges of choosing and implementing novel ophthalmic imaging biomarkers and endpoints in your research, to accelerate earlier, non-invasive and personalised healthcare for ophthalmic and neurodegenerative patients.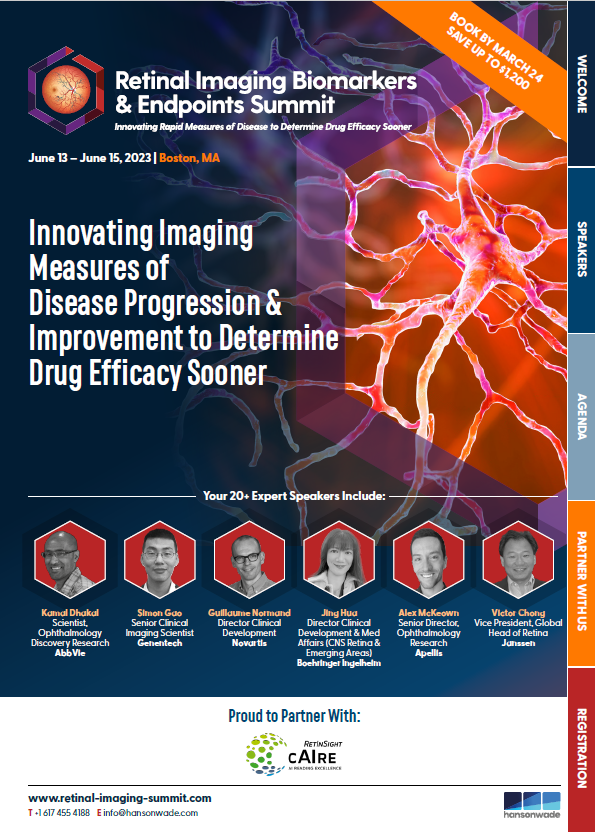 Meeting Starting Soon - Limited Passes Remaining!
A Snapshot of 2023's World-Class Speaker Faculty:
"Looking forward to discussing with other drug developers how we can harness cutting-edge imaging technologies to improve endpoints in our clinical trials."
Guillaume Normand, Director of Clinical Development, Novartis